focus
Direct-to-Consumer Coffee Beverages
soultions
Email Automation
UX
Visual Design
Creative Direction
Web Development
focus
Sustainability
Inclusivity
High-QUALITY COFFEE FROM A SUSTAINABLy Driven Brand
So much more than just another coffee company, Joyride set out to craft delicious beverages that are good for the people and the planet. 
With both sustainability and inclusivity as its driving ethos, this brain-child of three brothers is attempting to transcend being just a high-quality, tasty beverage.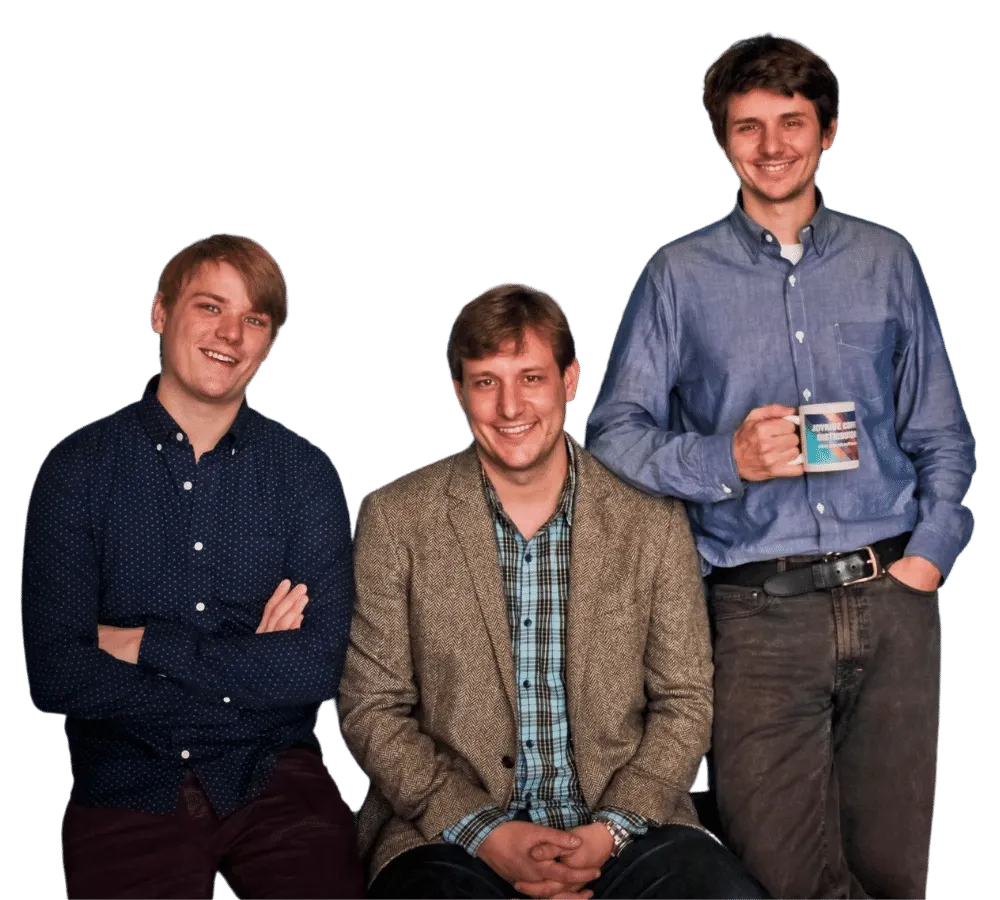 get S#!T Done
This is quite literally one of the company's five core values. Founded in 2011, Joyride was launched by David, Adam and Noah Belanich (above) who originally started in the back of a food truck as New York City's first mobile specialty cafe.

Almost a decade later in 2020, Joyride expanded their services beyond the office with a new ecommerce website. Now, Joyriders could have their favorite products delivered straight to their front door.

After their website was created, it was up to the Joyride team to implement a custom email marketing strategy to drive sales. That's where The Growth Shark comes in.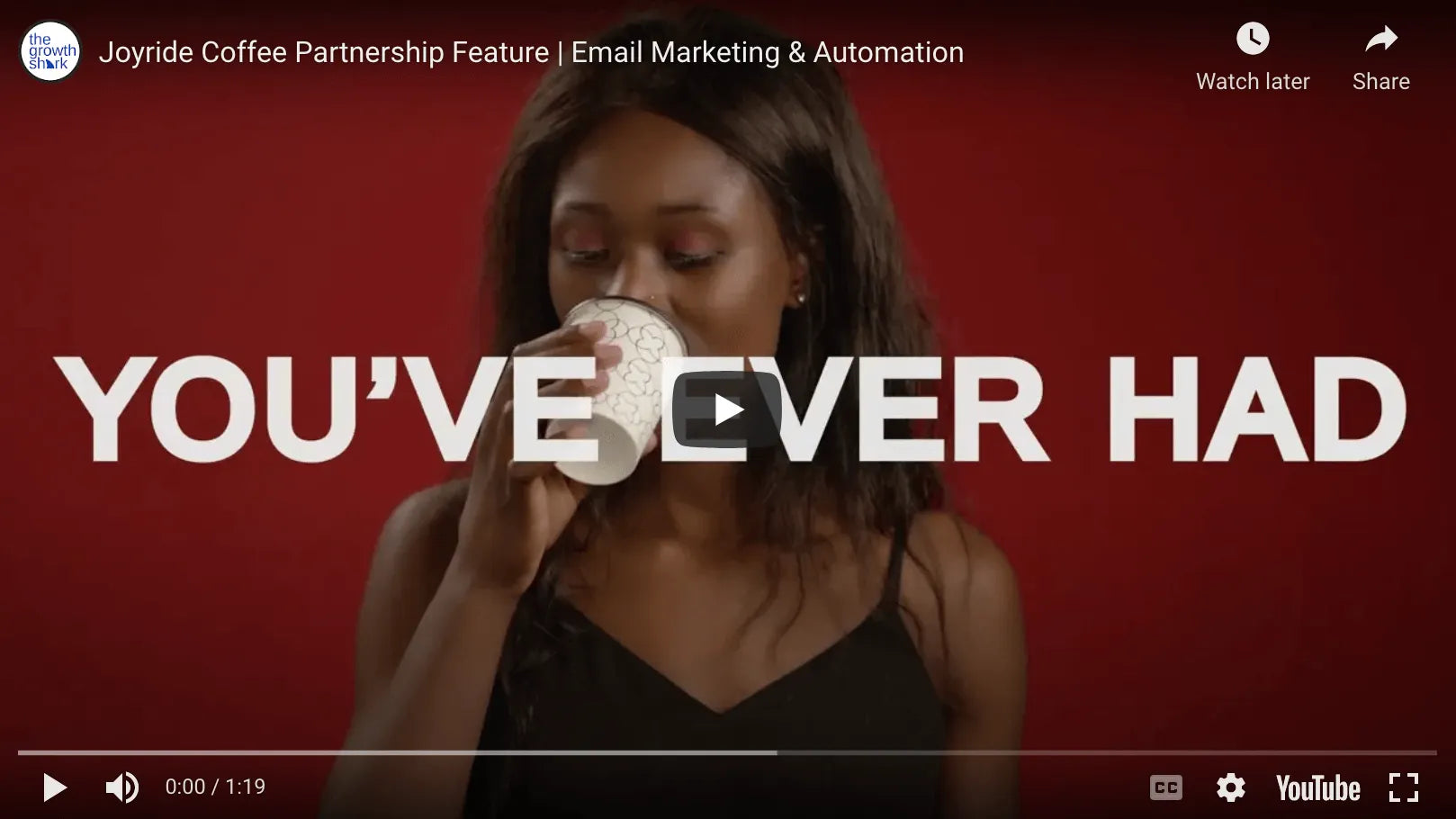 EMAIL MARKETING
Colorful. Fun. Eye-Catching.
KEY PROJECT OBJECTIVE
Increase Email Engagement & Open Rates
When the Joyride marketing team came to us, it was clear that they already had an established brand with successful office and wholesale operations. They were setting their sights on an entirely new channel, direct-to-consumer beverages, and they tapped The Growth Shark to head up their email marketing and automation buildout.

From the start, we worked closely with Joyride's Marketing Director and Marketing Coordinator to thoroughly understand the essence of the brand. From their mission to their pledge of sustainability, it was evident that there was a greater driving force to this beverage company. 

We found that they work with roasting partners from all over the world that source beans directly from their family farms. Every coffee purchase helps support and maintain sustainable Direct Trade Relationships.This ensures that every high-quality bean is grown, harvested, and processed in a responsible way.

This became the focal point of the entire creative strategy as we started to design the email marketing flows and automation infrastructure. It was also critical to emphasize Joyride's high-quality coffee that was known for it's great taste while utilizing less sugar than most coffee companies.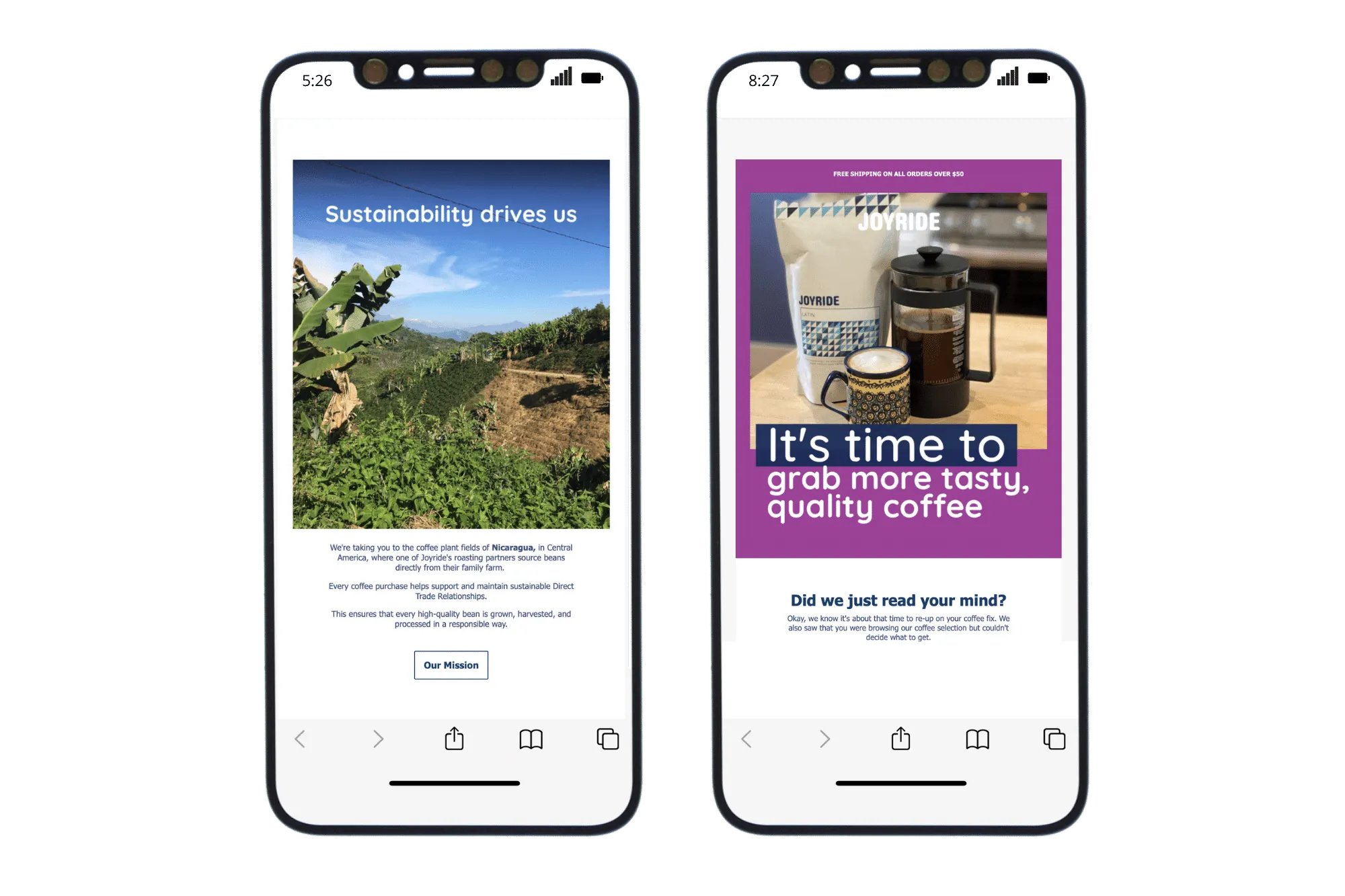 Each of these emails were created with a specific goal in mind. Whether it be a call-to-action to read more about Joyride's mission or a perfectly timed reminder to order another bag of delicious coffee beans, our data has shown that it's key to keep your brand messaging concise.

As our creative team was finalizing the initial email marketing project, it became apparent that Joyride was going to leverage their About Us page quite a bit and was in need of a full revamp. 

Our strategists and designers then shifted to constructing a foundational page that would incorporate both the brand's joyful personality and commitment to sustainability. The results left Joyride's marketing team smiling from ear to ear.
ABOUT US PAGE
Modern. Sleek. Vibrant.

FROM THE JOYRIDE TEAM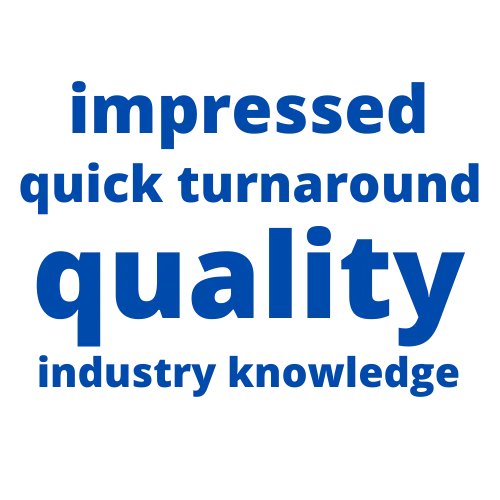 "Our marketing team was immensely impressed with The Growth Shark team. Their quick turnaround time, quality, flexibility and industry knowledge really helped get our email campaigns prepared for an eComm launch. Would use GS again and have and will continue to recommend their team."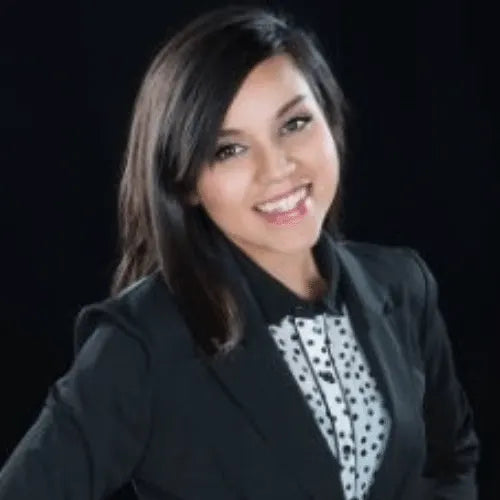 - Yvette Y. | Associate Marketing Manager
our results
%
Welcome Email Flow Open Rates

*Initially 21%
%
Browse Abandonment Flow Open Rates

*Entirely New Flow
*Results are based on 6-month statistics.